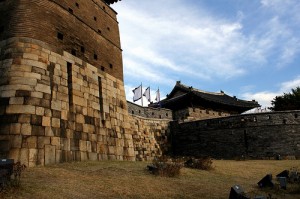 I traveled to Seoul in June (I wanted to avoid the rainy season and enjoy the weather before it became too humid) to see the city for the first time. Seoul is home to four UNESCO World Heritage Sites and I made it a priority to visit as many of them as I could while I was there.
My first stop was to Hwaseong Fortress in Suwon, a satellite city located just 20 miles outside of Seoul. Built around 1800, much of the fortress was damaged during the Korean War. It was repaired in the 1970s and walking up to it today it still seems impenetrable. What makes it so unique and visually appealing is that it was built as a combination of designs from Europe, China, Japan and Korea. Its hybrid nature, while obvious in photographs, was truly beautiful up close. I toured the walls, the four gates and the artillery towers.
I was lucky that I was there on a Sunday because they have a demonstration by the "royal guards," a reconstruction of what the guards would have looked like when the castle was built in the late 18th century. It was colorful and fairly enjoyable but I wouldn't build my plans around it in the future. My trip to Hwaseong Fortress and Suwon city took an entire day but it was worth it. On my second day in Seoul I visited Changdeokgung Palace. It was named a UNESCO World Heritage Site in 1997 because of the way in which the architecture harmonizes with nature.
While that sounds sort of flowery and pompous, UNESCO got it just right. Buildings on the palace grounds are beautifully integrated with the property's extensive gardens. It was all built in the 15th century and while some of the buildings on the site have been rebuilt, the bridge is the oldest bridge in Seoul.
I will say that I was initially put off by the fact that you have to be a part of a tour group to see it but it was well worth the cost and the English-speaking guide was really useful. Hwaseong Fortress was impressive and beautiful in its own stark way but the palace gardens and pavilions at Changdeokgung were gorgeous. I wouldn't have traded my tour of the palace for anything.
Because my tour of Changdeokgung was fairly brief (about 90 minutes), I managed to see the Jongmyo shrine on the same day. The shrine was visually pleasing but it certainly wasn't stunning. Built in the 14th century, dozens of Korean kings and queens are buried at Jongmyo. It was an important site for royal ancestor worship where five rituals took place each year to honor the royal dead.
These rituals are reenacted once a year in May (I missed it by a month) and would probably make the site much more interesting to visit. I decided not to visit the fourth World Heritage Site in Seoul (the Joseon Royal Tombs) because I wanted to spend a few days enjoying modern Korean culture but the three sites I did visit were well worth the time. I'd recommend them to everyone and if I go back I'll be sure to visit the Joseon tombs.