I traveled to Tok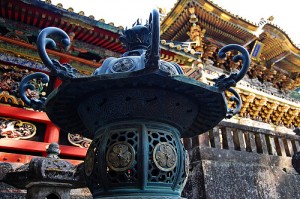 yo in the middle of May so that I'd avoid both the busiest tourist week and the rainy season. While I was there I wanted to see a few of the cultural landmarks that both defined the city and how I'd always thought of it.
The first place I went was Akihabara. It was crowded, noisy and pricey but that's what I went there to see. Essentially, it's an area dominated by computers, electronics and anime with tons of shops both big and small. They cater to tourists as well as locals so it never felt like a shopping center meant purely to placate tourists with cheap souvenirs. Instead, there was some fantastic merchandise but since I'm not all that knowledgeable about the latest electronics, anime or computer parts, I didn't actually buy anything. My trip there was more to enjoy the sites and sounds than to purchase merchandise and I justified it because it was only four or five minutes away (by rail) from Tokyo station. I did however stop in at one of the maid kissaten for a coffee. It was certainly an interesting cultural experience I could only enjoy in Japan.
My time in Akihabara was brief and I spent most of that day in Ueno Park. Regrettably, I missed the cherry blossom season by a few weeks so I didn't get to see Ueno Park's 1,000 cherry trees in bloom. However, there was plenty to keep me busy since the park is home to a number of museums, a zoo, a temple and much more. The highlight of my trip to the park was visiting Toshogu Shrine.
The shrine is dedicated to Tokugawa Ieyasu who founded the last Japanese shogunate. There are apparently more than 100 of these shrines scattered around Japan but I doubt they're all as intricate as the one I visited in Tokyo. There was a small admissions fee in order to enter the shrine itself but it was worth it. As a nerd who has always been interested in Japanese history, being in a shrine dedicated to Tokugawa Ieyasu was pretty cool.
The next day being a Sunday, I stopped at Harajuku station. The Harajuku area is home to a number of up-scale fashion boutiques and also functions as a place where young, fashion-conscious Japanese young people hangout. I took a brief walk around the area and while I didn't want to be rude by staring at individuals, I did find the culture on display to be fascinating. The costumes of the cosplayers were quite elaborate and the odd combination of Victorian and gothic dress was fascinating.
The whole time I felt as though the outfits belonged in a museum but the fact that people actually dress that way made it a totally unique cultural experience. These were just a few of the places I visited while in Tokyo but they made the greatest impression on me. I'd wanted to see them for years before I actually went to Japan in May and I have to say that the wait was worth it.