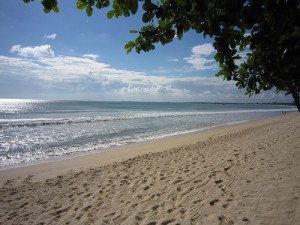 While traveling in Indonesia, I had the great fortune of spending a week on the island of Bali. If you have never been, you should definitely add it to your list of places you have to see. Bali is incredibly beautiful and full of lovely, nice people. When you're in Bali, you must be sure to travel all around the island to see all that it has to offer.
My days in Bali consisted mostly of lazily laying on Kuta beach. It is the main touristy beach in Bali which is full of all the tacky touristy things you'd expect, including Starbucks. I did try my hand at surfing a couple times, though, but couldn't stand up for any great length of time. If you do attempt some surfing lessons, beware. It is incredibly addicting. The water in Bali is to die for, so even if you don't try surfing, it is great for a swim.
You can stay in some pretty neat hotels in Bali that are made-up in the traditional Hindu flare. The hotel where I stayed was decorated like a palace. There is a lot of Hindu decor all over the island as Hindu is the main religion.
During my week stay I also managed to take a day trip into Ubud, Bali's cultural center. Ubud is a must-see if you are in Bali and you can get some really cool art there. We went north of Ubud, to Taro to take an elephant ride. We had already ridden an elephant in India, but this was neat as well. You get to feed it and give it a bath after your ride.
You cannot be bored in Bali as there are always things to see and discover. And as is the case with many South-East Asian hot spots, the night life is fabulous. I met some great fellow travelers at the local pub near where I was staying. We even traveled to Malaysia together afterwards.