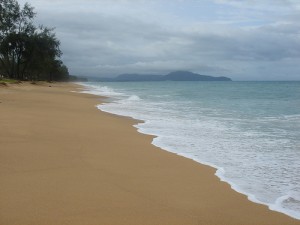 Asia is home to the longest as well as some of the most beautiful beaches on the planet. Since Asia is such a vast continent that covers many tropical areas, it stands to reason that it would have many beautiful, sandy beaches. There are, in fact, so many beaches to choose from that coming up with a list of the best is quite difficult.
Mai Khao Beach in Phuket, Thailand, is one of the few remaining beaches that are quite and almost deserted. It is just 17km of peaceful, beachfront. In fact, it is the longest beach on Phuket, with only one resort. This is the place to go to experience some serenity. April provides some excitement however, due to the hundreds of baby sea turtles that are released into the ocean.
Tanjung Rhu in Langkawi, Malaysia is another secluded and private beach. It is a huge, secluded cove that contains the one of the longest stretches of private beach anywhere. The beach is wide with soft sand and the deep blue water is perfect for swimming. There is also only one resort, making it a perfect romantic getaway, or just a private taste of paradise.
Lombok, off the coast of Bali, Indonesia has pure white-sand beaches with clear aqua-blue water. It is so private that sometimes you may have the beach all to yourself. Considering that Lombok is just a short ride from Bali, it is a wonder that it remains so secluded.
The island of Koh Phangan, Thailand in the Southern Gulf has developed rather rapidly over the past 20 years as it's become a tourist hotspot. The tiny island has lots to offer: fabulous beach and water perfect for swimming and snorkeling, lots of accommodations to choose from, outdoor activities, and a big party scene. If you would rather be surrounded by fellow beach goers, then this is your perfect destination.
Tioman Island may be small, but it is vast in beauty. With its lush jungles, crystal-clear streams, and dazzling white-sand beaches, you will never want to leave. It is also not as developed as some other beaches in the area, making it a dream destination for those seeking something off the beaten track. Juara Bay is as isolated as you can get – a quiet beach on the east coast, braced by three rivers leading to waterfalls in the jungle.
The beaches in Boracay, Philippines provide a laid-back atmosphere, but still draw crowds nonetheless. The 4km of sparkling sand that makes up White Beach is claimed by some to rival the beaches of the Caribbean. The water is shallow, the sand is like powder, and the shops and services surrounding it cater to every need and budget.
Last but not least, you cannot have a list of best beaches without mentioning the Maldives. The tiny island nation southwest of Sri Lanka contains many beaches that remain undisturbed. The white sand and turquoise waters make it heaven on earth. Plus the government has stress quality over quantity when it comes to its tourism, meaning that the beaches should remain somewhat undisturbed for years to come.