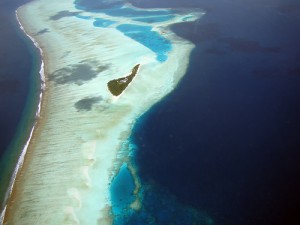 This is a guest post.
Last year we traveled to the Maldives for our honeymoon and I can honestly say that it is heaven on earth. The Maldives is the smallest country in Asia and it is made up of around 1,190 coral islands, which are surrounded by warm cobalt blue waters. It is just paradise! I would definitely recommend this destination to anyone who wants a luxury holiday or romantic break.
Just imagine waking up in a luxury villa and looking out the window of your room to see translucent waters below you. That is exactly what it is like in many resorts in the Maldives. We stayed in one of the Sheraton Maldives Full Moon Resort & Spa's water villas, which was actually located in the sea. The photographs we had looked at of our villa prior to traveling were nice, but seeing and experiencing it in person is something else. We had breakfast every morning on the beach before soaking up the sun and exploring the coral reefs.
As you can imagine, a holiday in the Maldives is not cheap. You will definitely pay for peace, luxury and exclusivity, and of course the service you receive is faultless. From our experience you are more likely to spend less by booking all-inclusive packages or full board deals, which include flights, transfers, accommodation and catering. However, it is a good idea to shop around as you can still find cheap flights and accommodation by booking them separately online. We flew with British Airways, which is one of the most popular airlines offering direct flights from London Gatwick to Malé International Airport.
A holiday in the Maldives will probably be the most expensive you ever go on, but it is a once in a lifetime experience. Get your money box out and start saving now!