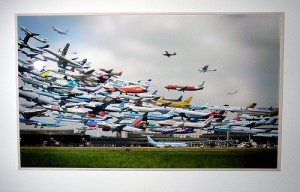 The activity level of an airport can be measured in one of 2 ways, by aircraft operations or passenger traffic. Aircraft operations are defined by the FFA by a takeoff or landing, and passenger traffic is simply defined as the number of total passengers. A single passenger is described as someone who arrives in, departs from, or transfers through the airport on a given day. The top three busiest airports listed below are based on passenger traffic. It is paramount that airports as busy as these three offer more than just a mode of transportation. In order to satisfy that many impatient travelers these airports must also offer easy access to concessions, an easy way to commute between gates, and much more.

1) Hartsfield–Jackson Atlanta International Airport
The Hartsfield-Jackson Atlanta International Airport is located at 6000 North Terminal Parkway in Atlanta Georgia. This is the largest airport in the world in terms of passenger traffic with 89,331,622 passengers during the entire 2010 year. It is on pace to maintain this status with 6,348,118 passengers for just the month of January 2011. The airport is 4,700 acres in size and has five runways. It offers an automated underground people mover in order to help travelers maneuver through the 199 gates. It connects all concourses within the terminal and consists of nine, four-car trains that operate on a 3.5 mile track. Also, while you're there waiting for your flight there are plenty of concessions to keep your mind occupied. The airport contains 263 total outlets. 114 of those are food and beverage outlets, 90 are retail and convenience outlets, 3 duty free stores, and 56 service outlets, which consist of postal service, a banking center, a lottery outlet, a shoe shine parlor, ATMs, and spas. The concessions spaces cover roughly 230,000 square feet of the airport.
2) Beijing Capital International Airport
The Beijing Capital International airport has quickly grown over the past decade to be the world's second largest airport with 73,891,801 passengers during 2010. As of the end of January 2011 it is maintain its status as the 2nd busiest airport in the world. It is located about 20 miles northeast of Beijing's city center. The airport is owned and operated by a state controlled company, the Beijing Capital International Airport Company Limited. It is also the main hub for Air China which is the flag carrier of the People's Republic of China. The airport contains 3 terminals:
Terminal 1 – Currently houses the domestic routes of Hainan Airlines and its subsidiaries.
Terminal 2 – Serves China Southern Airlines, China Eastern Airlines, SkyTeam members and other domestic and international flights.
Terminal 3 – Serves Air China, Star Alliance, OneWorld Members, and some domestic and international flights that do not operate from the other 2 terminals. Also the newest of the 3 terminals.
The airport also houses a food service area that is commonly called the "global kitchen." The name derives from the 72 stores that offer a wide variety of food. The dishes vary from formal entrées, fast food joints, Chinese food, Western style cuisine, baked goods, ice cream, and more. In addition to the "global kitchen," there is also a 12,600 square meter retail area, a 10,600 duty-free store area, and a 7,000 square meter convenience area.
3) O'Hare International Airport
In 2010, the O'Hare International Airport was the world's third largest airport in terms of passenger traffic with 66,665,390 passengers. However, as of the end of January 2011 it has dropped to #5. In order to maintain its status as the world's third busiest airport it must exceed passenger traffic of both the London Heathrow Airport and the Tokyo International Airport for the remaining months of 2011.
The O'Hare International Airport is located in the northwestern corner of Chicago Illinois. It serves as the primary hub for United Airlines. The airport was voted the "Best Airport in North America" for 10 years by two separate sources: Readers of the U.S. Edition of Business Traveler Magazine (1998–2003) and Global Traveler Magazine (2004–2007). It contains 5 terminals; however, only 4 of the 5 are operational. Terminal 4 was taken out of operation in 1993 and now serves as the airport's facility for CTA buses, hotel shuttles, and other transportation. The airport also contains multiple shops and activities for long layovers, including, the Chicago History Museum Gift Shop, the BackRub Hub, a full service medical clinic, and an interfaith chapel just to name a few.
Erica Gustafson is a freelance writer and consultant for Expedia. She writes about her travel experiences as well as other travel related posts sparked from her journeys.