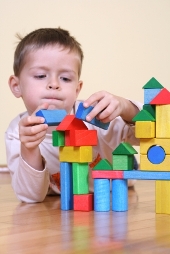 A holiday with the whole family is one of life's little joys but we all know kids need entertaining. If possible you want their every minute to be filled while you're away; after all it's your holiday too. Keep them busy and you just might get some quiet time on the beach to lay back, enjoy the sun and get lost in a good book. So how do you achieve the holiday holy grail of happily entertained children? Games are the answer and below are a few of the best. The kids will love them and so might the inside of you.
1. The Bat and Ball – It's a classic and for good reason. No complicated rules to explain and you can play it anywhere – although knee-deep in the sea is the most fun. All you need is a bat and ball set that you can buy from pretty much any shop near a beach and it's game on. It's great fun and you could even argue it teaches the kids teamwork since you have to work together to keep the ball up.
2. Hide and Seek – Most definitely invented by a parent on holiday this genius game not only gets the kids out of your way for a while but they try their hardest to make as little noise as possible – perfect for any parent wanting to enjoy some poolside peace and quiet. You don't need any equipment but you might want to set boundaries for how far they can go, you don't want them crossing national borders or anything like that, we all know how competitive kids can be!
3. Cards – Not a game per se but a whole world of games perfect for a calm evening sitting by the sea, sun burn glowing in the light of the Mosquito coil. With a deck of cards you get and endless supply of games that are as simple as snap, or as elaborate as bridge so they can suit kids of any age and adults can play too. Perfect for some quality time together. Get some practice in before you fly by playing at a hotel and you'll be the holiday champion.
4. Wave riding – Whether they try and catch a wave and ride it onto the beach or just spend a few hours jumping them like hurdles, kids love waves, in fact everybody loves waves. The best thing about games involving waves is not even that grown-up kids love them too, it's that playing in waves is really tiring so you're guaranteed to have worn out the kids by the time they're finished.
5. I-spy -– Another game that can be played anywhere by anyone, and that's what makes it great. You can play I-spy at home and it's great fun, but throw in the all-new and amazing surroundings of a holiday and you've got a real winner. Just think about what you can spy at the beach, the possibilities are endless.