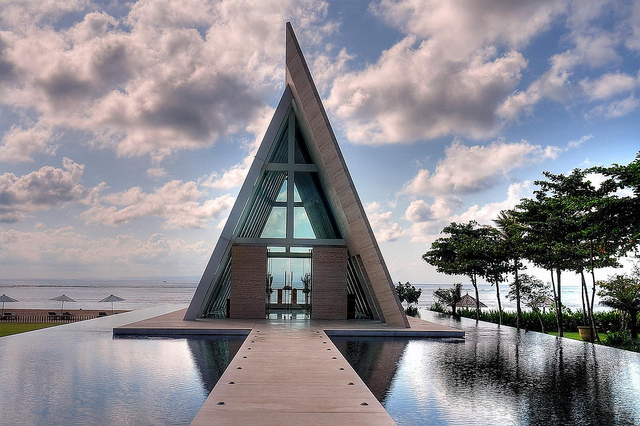 The unforgettable island of Bali in Indonesia offers a good choice of accommodation options whatever your budget is and whoever your holiday companions are. From budget bungalows to local homestays to hotels and even villas, the island is well accustomed to catering for a range of traveller needs. We provide some tips to choosing the best accommodation for your needs.
Bungalows
Bungalows in Southeast Asia are often the equivalent, in terms of budget anyway, of hostels in Western Europe. These bungalows are ideal for those who are happy to take a more 'rustic' option for a backpacking friendly budget and are suitable for single travellers, friends or couples. All of this contributes to keeping your budget low when you're on long stints of travelling. Bathroom facilities may not be quite the same as a plush hotel but this is part and parcel of budget travelling. The location of these bungalows more than makes up for the basic facilities as they can often be found right on the gorgeous beaches of Bali. Don't settle for the first set of bungalows you reach, these are often the priciest, make your way down the beach to see if you can find a lower price.
Losmen
Losmen is the Balinese term for a homestay. This is a particularly good option for a single traveller who would like the safety of staying with a local family. Homestays as you can imagine, vary hugely, but a clean and basic room, access to bathroom facilities and a warm welcome are to be expected. Air-conditioning is possible but more often than not the room will have a fan to help keep you cool.
Hotels
Hotels in Bali can vary from small, family run, basic hotels to plush five star resorts. The luxury hotels are usually much less expensive than at home so often they make good sense. Luxury hotels may have private beaches, spa facilities and swimming pools as well as air conditioning throughout. You will need to pay hotel tax on top of your room price and this can vary greatly from place to place, so it's wise to check before you book. Rather than booking a room based on the price provided, you can always give the hotel a call and try to negotiate a lower price, especially out of season.
Villas
Renting an entire villa is a very popular choice in Bali. Villas can vary in size but are ideal for large groups of friends, families or even couples. Unlike self-catering options in Western Europe, in Bali thanks to the lower cost of labour, many added extras are available. These can include catering, daily cleaning, babysitting, transport and even grocery shopping services. Always shop around to find the best deal. Some places which call themselves villas are simply bungalows or even a part of a hotel whilst others boast a private pool. If you are not sure about a villa then try to find online reviews to see what other visitors have said. You can often get cheaper deals on newly opened villas, although you may not find sufficient reviews to assess their quality.
Thanks to its booming tourist trade, the island of Bali has a great range of accommodation options and this means it's easy to find the right one for you. Always shop around, don't take prices at face value and be sure about the tax you may be charged.