Most of the best beaches in Thailand are located in Phuket. Backpackers enjoy these beaches, as much as families and couples, who book flights to Phuket to enjoy their vacation.
There are seven prominent beaches that you can visit when you are in Phuket.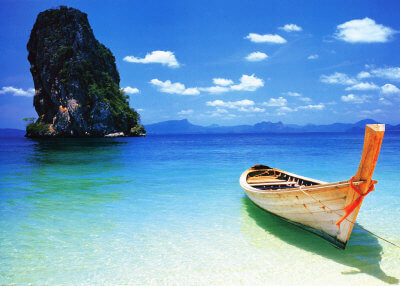 Patong Beach
One of the topmost travel destinations that you can find in Phuket is at Patong Beach. Tourists relax on these beaches during the day to get a tan and then head to the many clubs and bars that abound in this area for some entertainment at night.
Patong Beach caters not only to your relaxation comforts but if you are adventurous, you can enjoy many other activities such as water sports, which include snorkeling, apart from parasailing and snorkeling.
Bangtao Beach
Initially, Bangtao was a town that was famous for tin mining. Today it has become a travel destination that abounds with luxury resorts for vacationers. You can enjoy a holiday here as there are many facilities available for the tourists. If you wish to enjoy peace and relaxation, you can head to Bangtao beach and avoid the eclectic atmosphere that pervades Phuket.
Paradise Beach
Paradise Beach is small but the greenery that abounds in this area is lush, and you are surrounded with a peaceful ambience and sparkling white sands that you will not find in other areas of Phuket.
The bottom of the seas here are rocky and not ideal for swimming. However, tourists enjoy snorkeling activities in this area. Fine dining is available with international and Thai Cuisine in the restaurants at this beach.
Kamala Beach
This beach is not very heavily infested with tourists. Families prefer to head to this destination as they can avail of low cost sun beds and street vendors do not trouble them to buy their wares.  The beaches shimmer with blue sparkling water and white sparkling sands.
Freedom Beach
If you travel about 6 km from Patong, where there is a lot of noise and bustle, you will find Freedom beach, situated at the foot of the green hill. Water sports are strictly forbidden at this beach though many enthusiasts love visiting g this beach. This is due to the fact that is has been touted as one of the cleanest beaches and very famous in Phuket.
Karon Beach
The second largest and longest beach in Phuket is Karon beach.  Since they are equipped with no more than two rows of sunbeds, you should plan to reach there early to enjoy lying on one of them.  You can also play golf at the Dino Park Mini Golf, located nearby, if you are not interested in lazing on the beach.
Kata Beach
Kata Beach is located next to Karon beach and the water here is sparkling blue and clear and surrounded by white sandy beaches. It is important to book your accommodation in advance to take advantage of the sun beds. You can get involved in many water activities, which include parasailing, surfing as well as jet skiing, amid other activities. Children enjoy watching the tropical fish that abound in these shallow waters.
Patong Beach is definitely the most popular of the beaches in Phuket as it offers many sporting activities. It would be in your interest to book flights to these sandy shores in Phuket to enjoy a vacation full of fun and relaxation.
Related Posts