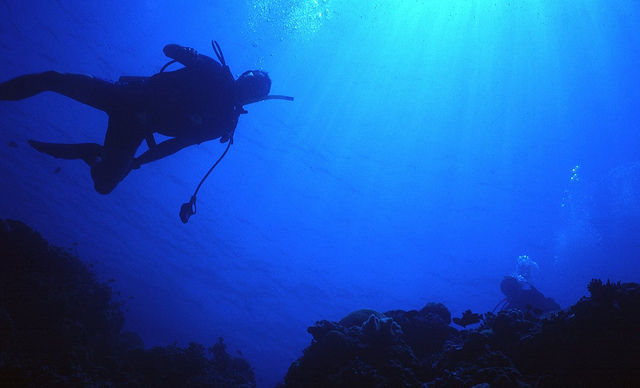 There are many places in the world that you can experience incredible diving, and the Philippines is definitely one of them. With amazing visibility, abundant marine life and a passionate local community of divers, the Philippines is the perfect place to plan your next diving adventure. If you're not sure where to start, here are 4 world class dive sites in the Philippines.
Apo Reef
This world famous marine park offers a collection of dive sites that cater for every level of experience and style of diving. Apo is a 34km reef that allows divers the chance to interact with an amazing array of marine life, from the very smallest organisms right up to sharks, schools of barracuda and even giant rays. Those with an interest in marine photography will love the sheer diversity that Apo reef offers its visitors.
Monad Shoal, Manapascua
This is one of the only places in the world that you can still have the chance to dive with the amazing Thresher sharks. Monad shoal is a sunken island at about 20m that the sharks use as a cleaning station. These magnificent and rare creatures are simply stunning to watch, and the chance to dive alongside them is a truly exceptional experience. If you are really lucky, you may also spot a magnificent Manta Ray on the same dive at Monad Shoal.
Sabang Bay, Puerto Galera
In close proximity to resorts and facilities, the Sabang Bay dive site is highly popular with travellers from around the world. From the shallows through to the wrecks, this site has something for everyone to enjoy. For the best chance to see the greatest diversity of marine life including turtles, an early morning dive is recommended. You'll beat the mid-morning rush, and only have to share the water with keen photographers and the amazing marine life that populates this beautiful site.
Sombrero, Anilao
Being close to Manila makes this one of the most accessible dive sites in the Philippines for a wide range of divers. You can expect to see a stunning variety of macro marine life, such as scorpion fish, ribbon eels and brightly coloured nudibrachs at this site. When the currents pick up and get a bit stronger, there is an increased chance to see some of the larger inhabitants such as sharks and tuna. Visibility is clear, and the corals are plentiful and varied in both colour and texture. Overall it is a great dive site with something that everyone from beginner's right through to experienced divers can enjoy.
Diving in the Philippines is truly the experience of a lifetime. When you're looking to start planning your holiday, make sure you check out Flight Centre for cheap flights to the Philippines and the very best deals on accommodation as well. Make your dive dreams a reality with a world class diving getaway that you'll simply never forget.