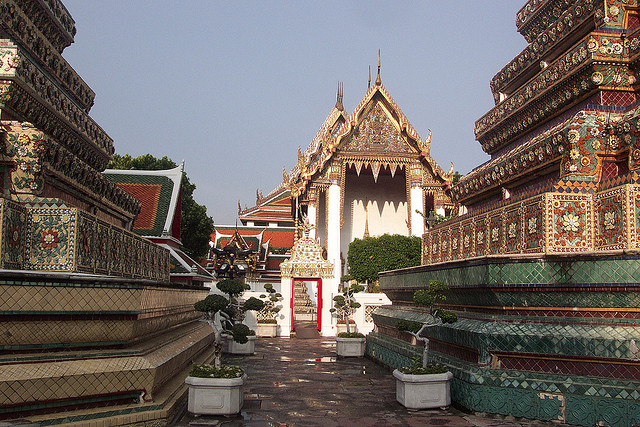 Visitors to Bangkok craving the authentic Thai experience can find themselves frustrated by the modern-day trappings of this thriving metropolis and leave yearning for more full immersion cultural activities. But little wellsprings of tradition still flourish in and around Bangkok where you can savor the exotic sights, smells, sounds and tastes of this fascinating culture.
Wat Pho
Escape the hustle bustle of modern Bangkok when you step into this space that's been held sacred for centuries. Lovingly maintained and rebuilt when necessary, the 80,000 square meter complex is aligned to the cardinal points and houses thousands of artworks celebrating Buddhism, culminating with the impressive gold-plated reclining Buddha. The Northern section has always been dedicated to the healing arts is currently home to Thai massage classes with pavilions where students practice their skills on visitors. The southern compound also exudes serenity as home to a working Buddhist monastery complete with resident monks. The entry fee includes a bottle of water you'll be grateful for in the oppressive heat and humidity — which is why it's preferable to visit early in the day equipped with shade hats and hand fans.
Rose Garden in Nakhon Pathom
Treat your five senses to the delights of a meticulously landscaped flower garden just a 30 minute drive from Bangkok, making it a perfect daylong escape the frenzy of the city. Covering 75 acres, it's idyllic for taking gentle strolls, relishing leisurely picnics, taking in traditional shows and shopping. And it's not just roses in the garden, there are pavilions featuring elephant performances that are fun for all ages and there's even an exquisite golf course. Guided tours complete with transportation are available, but if you're traveling with small children it is recommended to hire a taxi cab for the trip.
Khon at Sala Chalermkrung Royal Theatre
Although this classical '30s theater occasionally earned its keep as a movie house, it's now restored to its original glory to offer authentic performances of classical Thai dance, music and theatre. Every Thursday and Friday night, the Hanuman Chakri Royal Courtiers perform traditional reenactments of courtly drama and divine providence. On weekends, the Khon Thai Masked Dance uses high-tech lighting and sound to enhance legendary storylines like Ramakien, the Thai version of the Ramayana epic poem. Open seven days a week, tickets can be purchased online or at the Grand Palace ticket office.
River Cruise on Rice Boat
Glide serenely down the Chao Phraya River through Bangkok on a lovingly restored antique rice barge that doesn't skimp on the comforts. Romantic cruises include traditional Thai dinners complete with local entertainment and English-speaking guides that help you appreciate, and photograph, the City of Angels' riverside icons like the impressive Temple of Dawn and the illustrious Royal Barges Boat House. Drift along under remarkable bridges outlined in tiny lights as night falls and the skyline of Bangkok defines itself against the darkness.
Tip! Must Try:
Thong Ta Resort And Spa – Suvarnabhumi Airport
Searching for hotels in Bangkok can be daunting was so many choices, so world-wise travelers look for full-service facilities like this one that offer well organized, convenient airport pickup and delivery service. Recover from jet lag in their hot tub, catch up on your laundry and indulge in the 24/7 room service. Relax in air-conditioned comfort at the bar and restaurant and use the free Wi-Fi or enjoy reading newspapers in their outdoor area on beautiful days. The friendly tour and travel desk can help you arrange car rentals or guided excursions into Bangkok or day trips to fascinating historical sites like Angkor Wat.
Image(c)poo-tee-weet