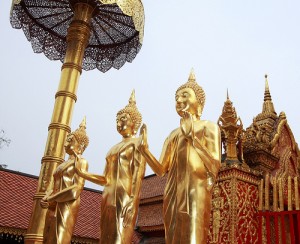 Thailand has become quite popular in recent years as a holiday destination. One reason for this is that holidaying here offers great value for money. Not only is it reasonably cheap to get there owing to the number of different cheap flights to Bangkok that are available, but once you've arrived, accommodation, eating out, shopping and sight seeing is very affordable.
Thailand's climate is tropical with an annual mean temperature of 28 degrees C. In the central plains and the south it is very hot, while in the North and particularly in the hilly regions, it is cooler. If you're planning on visiting Thailand, the best time to travel there is generally considered to be November through March when the days are mostly dry, and the humidity is lower.
Thailand is primarily Buddhist in religion, and you will notice that the Buddhist monks that you see are highly respected and revered members of the Thai community. There are even special areas reserved for them on many buses, and in airports. If you visit Thailand, then the World Fellowship of Buddhists (WFB) which is located on Sukhumvit road in Bangkok city is a great place to visit if you want to learn more about Thai Buddhism and meditation practiced in the temples locally. Christianity, Hinduism and Islam are all practiced in Thailand too, but to a lesser extent.
Thailand is a country where the lifestyle is one of peace and calmness, and this traditional attitude has survived for many centuries almost unchanged. For visitors to Thailand, this means a warm welcome and great feeling of acceptance. The Thai currency is the Thai Baht, and although tipping here isn't strictly necessary, it is customary in most restaurants and hotels. 10% is considered a reasonable amount to tip, and with prices being so low and service generally very high, this norm feels quite natural here.
Flights to Thailand are often heavily booked, so it's well worth booking in advance so you can travel when you desire. Most flights into Thailand, land in the capital city Bangkok, and therefore this is generally the starting point for most visitors, and as a starting point it's not a bad one. There's a lot to see and do here, and a wide choice of accommodation as well.
Thailand, and Bangkok in particular offers a wonderful mixture of tasty cuisine, amazing temples, natural beauty and peaceful lifestyle. The Grand Palace in Bangkok is very much a place worth visiting. Home to kings for over 150 years, and still a place today which houses royalty on occasion, although not all of it is open to visitors much of it is, and what can be seen is pretty impressive.
If you're looking to travel further afield, there is plenty to see through the rest of Thailand. Chiang Mai in the north, is Thailand's second largest city, here you can clime the 300 steps to the Doi Suthep temple, or take excursions to see some of the regions ancient temples and hill tribes. Ayutthaya is a place where you can step back in time. Once Thailand's capital city, you can now walk through the ruined palaces and wats on foot, or travel around the area on the back of an elephant.