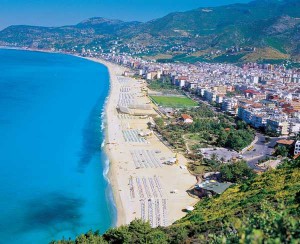 I'm biased, I love Turkey, yet the southern resort of Alanya doesn't need me to rave about it, it does it all for itself.
You can fly to Antalya airport from most UK airports, with low-cost airlines getting in on the action, saving you hard-earned cash. Save your stress levels and lira by booking those essential extras, after all, the less stress the better!
Any resort in Turkey guarantees a great time, with culture, sun, sea and fantastic hospitality. Families, couples and singles alike are welcomed with open arms, and you can't help but have a fantastic time.
Alanya is a green resort, with clean, wide beaches and clear water. There are regular boat trips, a great way to tan, but remember your sun-cream – Turkish sun is very strong! There are many fantastic spots for diving, with all manner of marine life to see. A regular hydrofoil also visits nearby Northern Cyprus – confuse your relatives by sending a postcard!
The beach is the centre-point, with plentiful sun-beds, many water-sports and bars and restaurants. There's also an aquapark, perfect for a spot of cooling down, and a great day out for the kids.
Shopping is fun in Alanya, with haggling the name of the game on the markets. Expect to pay considerably less than the asking price, and don't be scared to be a little cheeky! Handbags, purses, leather goods, clothes, trinkets and spices are plentiful.
Nightlife is varied and lively, with nightclubs, bars and restaurants offering international and local cuisine. Be sure to try some traditional Turkish food, it's delicious and extremely good value. If puddings are your thing, try kunefe, loosely based on cheese-cake, it melts in the mouth. Baklava is another favourite of mine, as well chicken kebabs, wrap-style. Delicious, although they occasionally come with chips inside, which I'm not a fan of!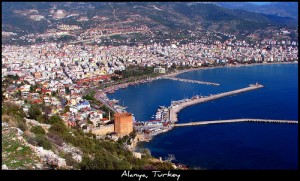 Feeling the need for culture? The town's castle dates back more than 2000 years. Head to the top for stunning views – don't forget your camera! Alanya museum gives a deeper understanding of the history of the area, including stories from Ottoman rule.
The Red Tower is a famous landmark and fort, an important symbol of Turkish maritime history. A tip – the doorway is very small, duck otherwise you'll have a bruise to remember your trip by! There are different floors inside, including a museum, octagonal water tank, and a spectacular view from the top.
Getting around the town is simple, with regular minibuses, or Dolmus. To hail the dolmus, simply hold your arm out and shout "stop" when you want to get off – simple! Taxis are also available. If you like a little more independence, you can hire a car, although beware, driving in Turkey is generally at your own risk!
The area around Alanya is beautiful, very green and hilly, with ancient caves to explore. Sapadere Canyon is 40km from Alanya but if you can get there, it's definitely worth it for the spectacular scenery.
Turkey may seem far away, but it's certainly not, and thanks to low-cost airlines, anyone can visit this middle-eastern delight. Booking your holiday extras, such as Birmingham Airport Parking helps save time, stress and money. Flying from Gatwick? Gatwick parking is also available at fantastic rates, along with other time savers, including airport hotels.
So Turkey – my favourite place. I could rave it about it all day, but book and see for yourself – head to Alanya this summer and see if you agree.