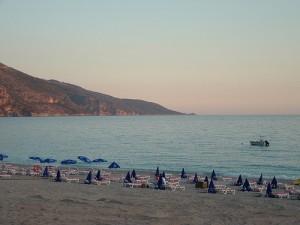 Olu Deniz is a fantastic holiday destination for families, couples and groups of all ages but it's important to pick your hotel carefully; you don't want all night parties next door while your children are trying to sleep or kids running around, dive-bombing the swimming pool on your romantic getaway. So we've put together a compilation of some of the best hotels in Olu Deniz to help you book the perfect accommodation for your Turkey holiday.
Hotels for families
The most popular family-friendly hotel in Olu Deniz according to TripAdvisor is Lykia World Olu Deniz. Not only is it a five star luxury hotel in a stunning area of the resort but reviewers have also commented on the amazing quality of the restaurant's food, the beautiful hotel gardens and the 19 swimming pools so there's something for all ages! Sometimes family holidays need to be a little less luxurious but still packed with action and this is where the Karbel Sun Hotel comes in. It's just 300 metres from the famous Belcekiz beach, 100 metres from the centre of Olu deniz and the beautiful Blue Lagoon is only 10 minutes' walk away so it's perfect for being right in the centre of the resort and there's a childrens' pool and play area too so you can relax whilst the kids keep busy.
Hotels for groups
The best accommodation for lively groups is in the centre of the resort so hotels such as Tonoz Beach hotel (just 30m from the beach), Hotel Asena (100m from the beach) and the ATA Lagoon Hotel are great choices. TripAdvisor reviewers have picked the Belcehan Hotel as one of their top choices for groups and it's easy to see why with its large pools, snack bar, restaurant and beautiful surroundings but if you want something a little quieter, the Olu Deniz Resort Hotel is worth a look.
Hotels for couples
LykiaWorld is also a popular choice for couples as the beautiful rooms, massage services, adult pools, quality restaurants and its position right next to the beach make for a perfect romantic holiday in the stunning Turkish sunshine but if you need something a little less pricey, the villa-style Dorian Hotel is a great choice. It has everything you need including large pool, beautiful gardens and entertainment programmes, but without the hefty price tag.