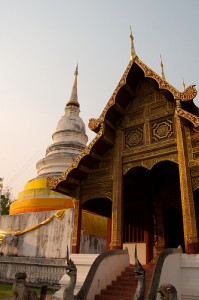 I took a two week group tour of Thailand which took us all over the mainland as well as to beaches and a couple of islands. As it was my first trip to Asia, I thought traveling by tour was a great way to be introduced to the continent. I wasn't quite brave enough to travel completely solo, so I decided to travel via group and have the added bonus of leaving all the planning to the tour company.
I flew into Bangkok solo, and arrived in the early afternoon Thai time. The tour didn't officially start until later that night so I had a few hours to experience the city on my own after checking into the hotel. After wandering the streets for a bit, I had to meet up with the tour group and get acquainted with my fellow travelers. We all went out to eat together to get to know each other better. I had my first traditional Thai meal of Pad Thai which became my staple during the rest of my travels. After dinner, we headed out to see what Bangkok's nightlife had to offer. We discovered a sidewalk beer garden which I had never even heard of before, and then went out to a proper night club. A night out proved to be the easiest and best way to bond with my new friends.
One of the first stops on my trip was to Bangkok's incredible Royal Palace of Chiang Mai. It's set on 61 acres and is full of beautiful buildings and multi-colored murals. I found the information on the Royal family and the Thai beliefs incredibly interesting. Next, we visited the Emerald Buddha Temple. It also had fantastic architecture and murals, and interesting history.
I enjoyed the klongs of Bangkok. The city has a series of canals that it is built around and we were able to take a tour of them on a typical Thai boat. It gave us a great view of the city from the water. The backwater canals also allowed me to see everyday Thai life as we went past many houses and buildings, and viewed locals going about their days. Also while in Bangkok, I was able to spend some quality time shopping for unique souvenirs. Siam Square was also great for shopping for higher-end clothing and other items. I ended up buying quite a lot of stuff.
My favorite part of the Thailand trip was Chiang-Mai. Chiang-Mai's old quarter is surrounded by a moat and ancient walls and is so pretty and old-world. I loved just wandering around the city. We also got to experience the night bazaar which was huge and incredibly busy. The Wat Phra That temple was my favorite part of Chiang-Mai. The temple itself is situated atop the tallest mountain overlooking the city. As part of the tour, we got to listen to the pilgrims ringing the bells, and even got to take part in Buddhist rituals. It was a very unique experience.
The beaches of Thailand provided a completely different aspect to the trip as I was able to relax and lie on the gorgeous beaches and soak in the beautiful surroundings. My Thailand experience was incredible and I can't wait to go back.