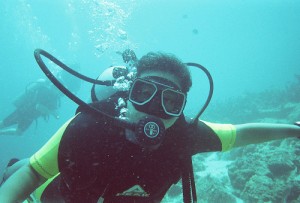 Asia provides some of the best diving sites in the world. In fact, divers seem to have come to some sort of consensus that regards Asia (and the Pacific Southeast specifically) as being the best in the world when it comes to top-rate diving locations. A lot of this consensus has to do with the sheer number of dive sites located in Asia. This also means that the more diving sites to choose from, the harder it is to come up with a list of the best. However, we must try…so here it goes.
Let's begin with Thailand. The Similan Islands and Burma Banks are located up the coast from Phuket. Although due to Phuket's popularity the waters can get busy, they seldom disappoint with their clear waters, granite islands, and sandy beaches. What makes it such a great diving spot is the fact that the islands are protected under Thai law, which shields the area from fishing. Diving is easy and navigation is simple, making for comfortable dives. Along the north end are whale shark populations, as well as several species of rays, and the leopard shark.
Papua New Guinea dive sites may be difficult to get to, but they are well worth the effort. Kavieng features current-swept channels, which attract a variety of big fish. You can observe eagle rays, mantas, tuna, barracudas, reef sharks, and oceanic white tip sharks. Kavieng is also home to miles of reef walls which drop away to great depths and are covered in big fans, sponges and beautiful hard corals. This area is also home to several World War II wrecks.
Sipadan in Malaysia is an Asian diving classic. It contains more than most, as it is at the epicenter of one of the richest marine habitats in the world. Groups of greenback and hawksbill turtles, barracuda, big-eyed trevallies, manta rays, eagle rays, scalloped hammerhead sharks, and whale sharks all call this area home. There is also a mysterious turtle tomb hidden beneath the reef in an underwater limestone cave. It contains many skeletal remains of turtles, but is dangerous for humans as well, as divers have died here. So don't attempt this without cave experience and a first class local guide.
Raja Ampat in Indonesia provides all that could be desired in terms of diversity. The waters are home to more than 1,000 species of fish and the diving offers diverse terrain and marine life. Most dives are drift dives due to strong currents, and large schools of fish populate the region such as sharks, manta rays, mobula rays, dolphins, whales, and turtles. Some sites have huge rocks rising up from the ground and water, surrounded by barracuda and manta rays. Rare animals like the wobbegong shark can also be spotted, as well as the epaulette shark which is only a foot long and is indigenous to the region.
Finally, the tiny nation of Palau is a great dive site for jellyfish. The popular lagoon near the island of Malakal has World War II wrecks and pelagic fish. Palau's amazing Jellyfish Lake is in the Rock Islands. Visitors can swim with millions of soft jellyfish. These jellyfish have evolved without any stinger as there is no predator in the vicinity.