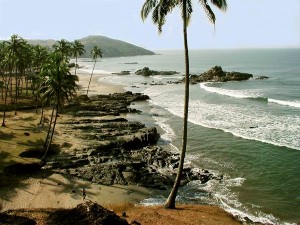 Goa was once the destination for hippies and other counterculture devotees who wanted to drop out of the commercial world. That element still exists here, but another side of Goa has emerged. This is a side that is flashy, hip and endlessly fun. Goans enjoy the highest per capita income in India. Its well-heeled inhabitants live a luxurious lifestyle, shopping at designer retail stores for their clothing and household goods.
Goa may be the smallest state in India, but it enjoys a vibrant lifestyle. Its location on the coast gives it beautiful beaches that draw millions of tourists from around the world each year. Even travellers from within India flock here to experience firsthand the Goa slogan: Take it easy.
This is easily achieved in Goa as the entire state exhibits a rather relaxed, 'anything goes' sensibility. The Portuguese occupied the region for nearly 500 years and their influence can be felt throughout. Many Goans are Catholic and it is not unusual to find Hindu temples and Catholic churches standing in relatively close proximity. The Portuguese influenced the language and architecture here as well, making Goa a fascinating destination that interestingly blends two diverse cultures. The lifestyle is so laid back here that anyone can feel at home.
A variety of accommodations are available throughout the state, but most visitors are concentrated along the bustling coastline. Interesting, and quieter, lodgings can be discovered inland where travellers are less frequent. Anyone wishing to escape the crowds should head inland and avoid the coastal areas. Villas are available for rent to travellers with discriminating and luxurious taste. Although these properties tend to be expensive, they are the last word in elegance and taste, many of them coming with full staff and hundreds of amenities.
Frugal travellers will find plenty of comfortable lodgings as well, though they may not be as luxurious. Some are former hippie hideaways; others provide gorgeous views of the beach and thoughtful amenities. Generally, speaking there are plenty of options for everyone.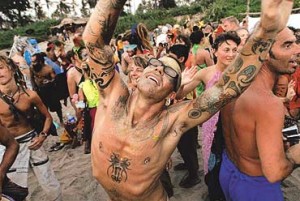 Goa is widely recognized for its pulsing nightlife. Rave parties have become almost commonplace and many nightclubs offer an opportunity to dance the night away. To really experience a Goan party, though, it is necessary to inquire among some of the beachside shacks. Gatherings called full moon parties – though they may happen in the middle of the day – are often kept hushed up to avoid police involvement. Essentially these are underground parties where dancing, music and good times prevail. Intoxicants are freely imbibed, even the illegal ones, generally making for a wild time. Another attraction is the Silent Noise Headphone Party where attendees dance to the music on their headphones in deference to a 10:00pm noise ban.
Goa is gorgeous by day and lively by night. It truly has something for everyone, from breathtaking landscapes to wild parties. To really get the most out of one of India's most spectacular destinations, visitors should take advantage of American Express credit card rewards.  By using an Amex card, travellers can collect points whilst enjoying one of Asia's great holiday destinations.