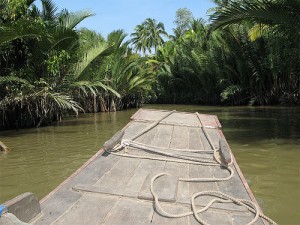 There are so many countries I want to visit. Some of the top destinations on my list are Egypt, Thailand, Brazil and The Maldives. It wasn't until I came across a travel review on Vietnam that I decided it was also a country I would have to visit at some point.
When I organize my holidays, I usually price flights to a number of destinations and choose the cheapest. At first I was surprised at how expensive it is to fly to Vietnam. After all, it is a long trip from the US to Vietnam. However, after looking long and hard I managed to find better airfares off-peak. I hadn't planned to travel in March, but I am quite flexible with travel dates and am lucky I can do so. Plus, I figured it would be cheap when I got there.
I travelled with American Airlines from JFK airport in New York to Noibai Airport in Hanoi, the capital of Vietnam. The flight was delayed for about 2 hours, but other than that there were no other issues. I have elite flight status with AA so at least I got to hang out in the airport lounge while I waited. After you arrive in Hanoi, you can take a bus from the airport to Hanoi city centre and the journey takes about 30 minutes.
Before travelling I had heard that Vietnam is very scenic and cheap. I can confirm both of these rumors. Perhaps tourism isn't as developed as in other Asian countries…but if you love an adventure, and our open minded and easy going, you are sure to love Vietnam. I spent three weeks in the country and tried to travel a bit. I enjoyed staying in Hanoi for a few days and paid under $20 per night for three star accommodation. Some of the tourist attractions I loved in this city were the Hanoi Water Puppet Theatre, the History Museum and the Ho Chi Minh Mausoleum, where you can a mummified version of Ho Chi Minh himself. I also had the chance to escape the city and see the natural beauty of Vietnam at the Tam Dao Hill Station. Visiting Vietnam was a once in a lifetime experience and every time I leave a county in Asia I want to return.