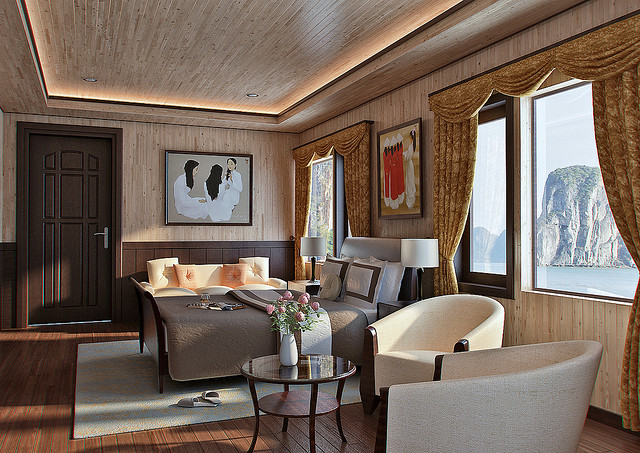 Vietnam is not often associated with luxury holiday destinations more a port of call for experienced or sometimes fresh faced travellers.  Steeped in a rich history Vietnam boasts amazingly varied landscapes including mountain ranges, unchartered forests and pristine beaches.  This diverse country offers something for everyone and seeing it within a lap of luxury is now provided through Mirus Journeys.
So treat yourself to a once in a lifetime holiday to Vietnam.  Start of in the countries capital, Hanoi at a luxury hotel like the Sofitel Legend Metropole just steps away from where the Opera House sits.  A classic hotel steeped in a rich history with all the grandeur of traditional Hanoi makes for a great starting point for your luxury Vietnam holiday.  Take advantage of the city's most famed restaurant and savour beautiful French cuisine, mixed with family recipes and a famous Sunday brunch.
After savouring the delights of the Vietnamese capital then why not set off and explore what the rest of this beautiful country has to offer.  Central Vietnam offers some of the most colourful and vibrant areas for you to see in Vietnam.  You can visit the beautiful city of Danang on a breath-taking scenic drive over the Hai Van pass.  Danang is home to the ChamMuseum, where you can learn more about the Champa people and other ethnic minorities.  Danang is a vibrant place with tree lined boulevards, restaurants and some beautiful beaches to aid the mix of things to do in this wondrous place.
A great base to explore the region comes in the form of a stretch of beautiful white sandy beaches where 60 one bedroom villas and 40 pool villas are spread over 35 hectares of tropical gardens.  Known as the Nam Hai, located just 25 minutes from Danang and 15 minutes from Hoi An, this beachfront offers a beautiful and endless horizon, sensational cuisine and great location to explore the vicinity.
Once you've enjoyed this luxury resort and explored the many regions then why not take in some of the many islands along the Vietnam coastline.  Secluded coves and brilliantly white sandy beaches are scattered along the coast providing a beautiful step on to the secluded and luxurious islands.  A beautiful place to base yourself and see some sensational islands of the Vietnam coast are Con Dai which is a chain of 15 islands.
Located just off the south east coast each island is ringed with white sandy beaches, coral reefs and secluded bays.  The Six Senses Con Dao resort is set in an area of natural beauty, along a mile long golden beach and sheltered by forested mountains.
Explore the world and stay in some of the most naturally beautiful areas the planet has to offer.
Image (c)  jinkazamah