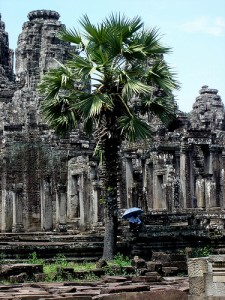 Asia provides a huge array of things to see and do over a vast amount of land and nations. Although it may take several trips to see all of it, Asia contains some awe-inspiring sites and major historical monuments. Its temples, unmistakable cuisine, and beautiful scenery will make you never want to leave. I've assembled some of the top things to do while traveling in this fabulous continent.
Japan's Mount Fuji makes the top of everyone's list and it's not hard to see why. You could easily spend a weekend exploring the vast dormant volcano and its surrounding Lake Ashi, and Hakone National Park. The views are incredible, and with the proper preparation you can even accent Mount Fuji's 12,388 feet to the summit to watch the sunset/sunrise. What a memorable experience that would be.
The giant Temple kingdom of Angkor Wat in Siem Reap, Cambodia is a once in a lifetime sight to behold. It is quite possibly the most impressive thing you will ever see in a jungle. This UN World Heritage Site sees thousands of visitors each year. The massive size of it is truly compelling when you think of how old it is and that it is surrounded by water and jungle. Angkor Wat is a true testament to human achievement and is a fascinating place to visit.
Ha Long Bay in Northwest Vietnam is simply outstanding as it is flooded with limestone rocks jutting out of the sea. You can take a boat tour of the UNESCO World Heritage Site that will take you around some of the 2000 islands which protrude out of the water in the Gulf of Tonkin. The area is absolutely breathtaking, and deserves to be experienced.
Take a tour of the Singapore Zoo either in the morning or at night depending on the types of animals you wish to see. Singapore Zoo is massive and provides the animals an opportunity to live in the wildest environment possible. During the morning tour, you can breakfast in the wild while exploring the zoo, and then get a closer look at the orangutans in their natural habitat. In the night tour, you weave through the Himalayan foothills at night on a safari tour to spot nocturnal animals in their natural habitat. It's one of the best things to do in Singapore.
What better way to discover a forest than by elephant? At Khao Yai National Park in Thailand, you can enjoy the outdoors, wildlife, and lush forests as well as explore Pakchong Creek by elephant. It provides a truly majestic experience and one that is definitely one of a kind.
Stay in a Buddhist Monk temple in Korea. There's no better way to understand the lives of these modern day monks than by participating in a temple stay program. During the weekend stay, you get to rise before sunrise to serve breakfast, do chores and meditate, all while experiencing firsthand the everyday lifestyle of the Buddhist Monks. You even get to dress up in traditional monk clothes for the duration of your stay.