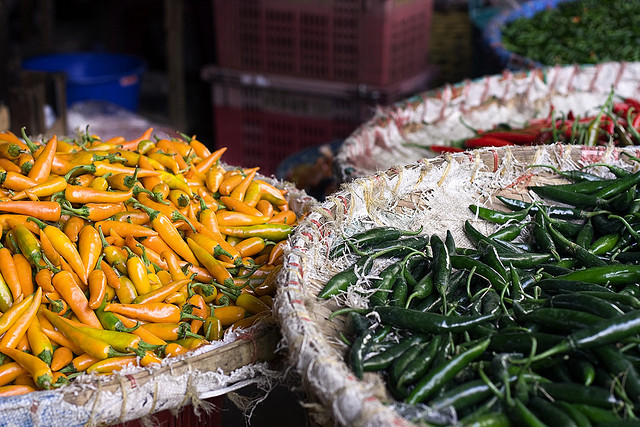 Thai dishes are often portrayed as spicy and meaty with no room for any other kind of cuisine. It isn't as predictable as you may think, spices might be involved but that doesn't necessarily mean it will be a predictable taste as their aromatic and wonderfully tasting herbs are something of a must try. So here are some dishes you have to try when on holiday in Thailand – enjoy!
Panang Curry.
This dish is apparently a must for anyone on holiday in Thailand.
It is made with either Beef of Chicken and has flavors and aromas that reference the distant lands of India and Malaysia. This dish includes fresh herbs and a wide range of spices which are sure to keep you enjoying the taste and smell of your meal. It is a common dish and is served in most tourist resorts but is a must for traditional Thai cuisine.
It is quick for chefs to prepare so there should be no trouble getting the meal served quickly for you to enjoy!
Tom Yum Baked Chicken
Thailand is famous for spicy cuisine and this is apparently one of its 'musts' for visitors to experience the tongue tingling spices available.
Basically its Thai baked chicken which consists of herb and spice paste which the chicken is bathed in and then baked. It is very popular amongst tourists so no doubt it should be easily found in any tourist establishment. Its popularity is probably due to its renowned spicy and zesty taste due to the use of red chilies and lime juice.
This dish clearly should be on anyone's list of traditional Thai cuisine to try.
Shrimp Green Curry.
This meal is obviously a sea food based meal which offers a wonderful mixture of tastes for the most well travelled cuisine expert.
Made with coconut milk, green curry paste, aubergine and fish sauce this meal also has the slight but unmistakable taste of Thai herbs and spices to make this dish a must try. In popular tourist places the green curry will probably be cooked with chicken or pork but if you can try to locate it, the shrimp based green curry is well worth finding.
Reportedly this Thai curry is best when found in local villages rather than in a tourist resort.
Mixed Vegetable Stir Fry
This dish is locally known as "Pad Pak Ruam Mit" and is very easily found everywhere in Thailand with it being not only a local favourite but a popular tourist meal too.
It does exactly what it says on the tin, made with mixed vegetables such as Chinese broccoli leaves, garlic, oyster sauce and Chinese cabbage it is a very wonderful tasty dish. There is a choice of what to have this dish served with if you choose to have it as a side dish; you may find that it is commonly served with either steamed rice or some curries.
Either way, this dish should be tasted whether you have it as a solitary meal or with a spicy curry.