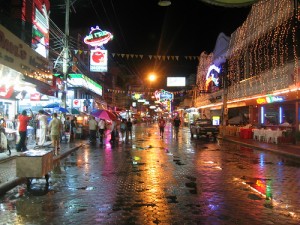 When you are visiting a country such as Thailand it is always best to understand a bit about the culture that you shall encounter and certain types of behavior that you should avoid. The way the Thai people view and talk to each other or what is acceptable can be vastly different to what you expect and some off the cuff remarks could be inflammatory even although that is not your intention.
The first thing is that Thailand is a Buddhist country and it is difficult to get away from Buddhist symbolism during your visit. It is essential that you dress politely if you are visiting any religious place so you should not show your legs or arms as you may discover you are refused entry. Things are more relaxed on the beach areas such as in Phuket but it's always good to know in advance.  You also have to respect their beliefs at all times as it is not a joking matter with their religion for them and the tolerance of what may be interpreted as a little joke is very low.
You shall probably already know about the Buddha. However in Thailand you should not climb over any statue no matter the size and in some places you are not allowed to take photographs of certain Buddhas so it is important to ask before you take. With monks, they are not allowed to touch or take anything from a woman, so do not ask. Also the monk shall not shake your hand even if you are a man and if you are on a bus look out for seats left especially for monks. It is disrespectful to sit on them.
Apart from religion the other main sector that you should not be disrespectful to is the King and the royal family. It is actually against the law to say or do anything that is disrespectful to them as they are revered by the people and anything that is seen as damaging or against them is a very serious matter.
These are only a few of the things you have to keep in mind when visiting Thailand. There are others which are regarded more as personal etiquette when greeting people but due to its position within Thai society things connected to religion take on extra significance. One of my favourite places was its capital city Bangkok so make sure you don't miss out on that.