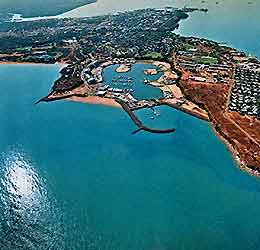 There is so much to do when you visit Australia which is home to big cities, beaches, deserts and mountains. You can choose from any of the ten top things to do in Australia that is listed below.
Visit the Opera House and Sydney Harbor Bridge as this is something every traveler to Australia must do. Some tourists enjoy climbing up the Bridge and book well in advance while other may opt to enjoy a night at the opera on terra firma.
Enjoy a scenic drive down the Great Ocean Road which starts from Torquay and runs for 243 km to Warrnambool in Victoria which is the southern state. You are bound to spot a few koalas hanging from trees and enjoy stunning sights such as the rock formation of the Twelve Apostles. The Outback may be difficult to reach from any of the major cities but if you can make a trip to Ayers Rock you will enjoy the journey on the dusty roads that take you to Alice Springs.
Make it a point to include the West Coast of Australia as you will be spellbound by the spectacular scenery. Enjoy snorkeling and discovering reef sharks, manta rays, turtles and perhaps a whale shark if you are lucky when you travel half way down the coast to Exmouth.
Skydiving is very popular for backpackers as it is something most tourists enjoy trying. Feel the adrenalin rush as you jump out of a plane from thousands of feet in the air. There is nothing as thrilling, especially as you get a great bird's eye view of the stunning landscape.
Accommodation is easy to find in Australia. There are many luxury hotels and various eco retreats where you can find great big beds to rest at night. Melbourne and Sydney abound in five-star hotels though if you look around you will find some great chic eco hotels at affordable prices.
Tourists flock to Sydney to enjoy the large ocean pools that are filled with sea water. These types of pools are found in the far end of Coogee beaches and Bondi, Sydney where you can soak lazily in these pools and watch the water flowing in with the current.
Do not miss the Great Barrier Reef which is the largest in the world and spectacular, whether you see it from above, or below. This reef that spreads for over 2,600 km abounds in diverse marine life that will amaze you and make your trip there worth your while.
Try to include Darwin, which is the capital of the Northern Territories, in your itinerary and visit the Kakadu National Park that lies about 200 kms to the south. You will enjoy a wide spectacle of flora and fauna, including rivers, waterfalls and aboriginal rock art.
Tourists can learn to surf and enjoy a great time soaking up the sun on the beaches. Include this exciting sport as one of the top things to do in Australia. Surfing is a popular pastime with Australians and you can join the other tourists and locals in the sparkling crystal waters.

Hotels worldwide
Aruba or Austria? Barbados or Belgium? Chile or China? Marriott can offer hotel deals in 70 countries from the familiar to far-flung, for business or leisure.
Resorts
Need to relax or take a break from business? Marriott has spa resorts worldwide, and hotels in ski resorts for snow-lovers. Why not tee off at a golf resort?
Holidays
Luxury holidays for all the family, all-inclusive packages and deals on holiday resorts: relax and travel with Marriott to exotic locations worldwide.
Weekend Breaks
Take a weekend holiday to relax in a spa, play golf or explore a new city: choose from our range of quick getaways, city breaks and romantic holidays.
Related Posts