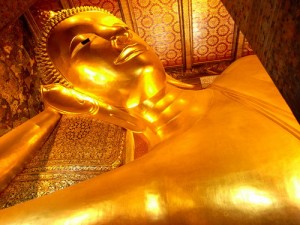 I travel to Thailand and visited Bangkok back in February and although most of what I'd heard about Thai tourism before dealt with its seedy underbelly, I found Bangkok to be a beautiful city. Part of the purpose of my trip was to visit the city's temple complexes of Wat Pho and Wat Arun the architecture of which I had admired for years.
Similar in architecture to the Cambodian Angkor Wat, these temple complexes were some of the highlights of my trip. I visited Wat Pho on the second day of my trip. It's located in the central district (Phra Nakhon district) of Bangkok where I planned a fully day of sight seeing. The complex is divided into two walled compounds. One of these holds the Reclining Buddha and the other is a working Buddhist monastery.
The Reclining Buddha that I just mentioned is one of the largest Buddha images in the world and I can honestly say that I'd never seen anything like it. The body is covered in gold plate and the soles of its feet are covered in mother of pearl on which is etched 108 Buddhist scenes. The rest of the temple is home to more than a thousand smaller images of Buddha.
Overall, it was fairly overwhelming to my Western sensibilities but I really enjoyed seeing it in person. If you're going to visit the temple you should be aware that there is a dress code (no shorts for example) and a small admission fee. Strangely, the temple complex is also home to a school of massage and traditional medicine. The school's hours are similar to the temple's and it's possible to purchase massages while there.
I spent a good 90 minutes at Wat Pho and the rest of my day was spent touring adjacent sites in the Phra Nakhon district. The next day, I toured Wat Arun on the bank of the Chao Phraya. It's located one district over from Wat Pho in Bangkok Yai and if there hadn't been so much to do and see around Wat Pho I could have seen both in the same day.
Of the two temples, Wat Arun was far more impressive. It's dominated by an ornate central tower and incorporates a lot of Hindu and Chinese figures in its design. It was very different from Wat Pho (except in the fact that it too charged a small admissions fee) and while I found the Buddha at Wat Pho to be interesting, the architecture at Wat Arun was visually stunning.
I toured it by myself but there were clearly organized tours of Bangkok that stopped there. Of course, there's more to see than just the tower because, like Wat Pho, Wat Arun is a functional monastery with a collection of ponds and small buildings scattered throughout the complex.
I enjoyed Bangkok but the trip wouldn't have been nearly as memorable without the temples. I'd recommend them to anyone visiting Thailand.
Related Posts