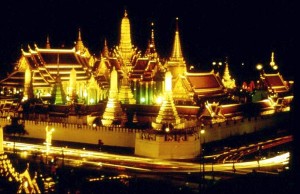 Bangkok is an increasingly popular tourist destination in Thailand and it has reason for this. Not only is it referred to as Venice of the East, but it has lots of different scents and smells and it is completely different from any country you will ever visit. Bangkok is big, bold and beautiful.
Last year I reluctantly decided to travel to Bangkok. It had never been a destination which appealed to me, but I ended up going with a friend. Yes, there is a lot of noise, pollution and I did feel a bit unsafe at times. However, there is a magical side to Bangkok that I fell in love with. I had never been to Asia and now that I have tried it, I want to travel more.
Bangkok has all the great tourist attractions you would expect to see…..lush gardens, temples, shrines and all in the middle of an urban jungle. All I can say is go. But here are some of my dos and don'ts.
Do……….
book your flights in advance
Bangkok is a popular destination so make sure you get your airline tickets in advance to avoid paying high fares. Airlines such as British Airways and Delta Air Lines operate to the main airport serving the city – Suvarnabhumi Airport.
travel between November and March
If you want to experience the best weather for sightseeing, travel to Bangkok between November and March. However, this is the high-season, so hotels may be more expensive.
get vaccinations before you go
Make sure you visit your doctor (I would recommend at least 3 months before you travel) just in case you need to get a vaccination before you travel. I got the Hepatitis A jab.
Don't……….
Perhaps not many people will agree with me. But I would recommend that females don't travel alone in Bangkok, especially at night. They say that Bangkok is a safe city. Keep your wits about you and be careful…remember that tourists are easy targets.
Make sure you respect customs in this country…for example, it is offensive to show affection to your loved one or even a friend in public in Thailand. You should also have respect for sacred places and don't be too noisy.
Related Posts