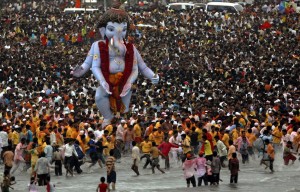 India is a country of contrasts. On the one hand you have a country which is home to some of the world's most beautiful monuments: the Taj Mahal, Red Fort, Aga Khan Palace and Gandhi National Memorial, and the Gateway of India. On the other hand it features in the news for all the wrong reasons: armed robbery, kidnapping, extortion and terrorism-related incidents. I was never very keen on visiting India, but seeing the tourist attractions appealed to me.
I did overcome my fears and eventually I organised my holidays in Delhi. My conclusion is that you will either love it or hate it. I loved it….and so I have compiled some tips to help you enjoy your stay in India.
Book your flights early. Long-haul flights are expensive if you leave it to the last minute. I flew direct with Continental Airlines – it was the only company I could find which didn't have stopovers. Flight time New York – Delhi was about 14 hours.
Take photocopies of all your documentation: passport, airline tickets and Indian visa.
Organise vaccinations which you may need before going on holiday. Bear in mind that you may need to get them 6 months before travelling. Check with your GP.
Don't accept drinks or food in the street or when taking public transport as it may be drugged.
It is not a good idea to travel alone, especially if you are a female traveller.
Carry cash or travellers cheques in case your card gets swallowed by the ATM or the machine itself doesn't work.
Never set off without a good travel insurance.
Beware of scammers. Many locals will try to get you to buy something which looks expensive, but isn't.
If you are paying by debit or credit card, make sure you insist that the transaction is carried out at the shop counter.
Do not be afraid of traveling to India. I had a fantastic time in Goa and really recommend it.
Related Posts