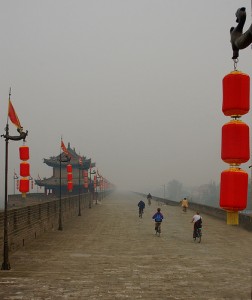 You will get some everlasting memories, while making a trip to China. It is a perfect place for enjoying romantic getaways, relaxation, adventure and thrill. You can also enjoy comfortable accommodation, tasty dining, excellent shopping and delightful nightlife here. It is worth to shop around online to find the best deals to travel to China.
Guilin is a fabulous place to visit in China. The strangely shaped hills and green foliage ranging from bamboo to conifers make it a great attraction for tourists. Elephant trunk hill, Reed Flute Cave, Li River and Seven Star Park featuring a stone museum are the must see places in this city. You can reach the city by flight, bus or train.
Xian is situated in the central northwest China. Terracotta warriors are the most significant attractions of this place. They are the important archeological excavations of the 20th century. More than 7,000 ceramic soldiers, horses, chariots and weapons have been found out and most of them have been refurbished to their former magnificence.
Xian city wall is another important attraction. The wall has 18 gates that are open for all tourists. Big Wild Goose Pagoda is located 4 kilometers away from the downtown. It is a holy place for Buddhists. Its simple, yet in spring construction attract thousands of tourists every year. The surrounding scenery is very charming with water fountains and gardens.
Huashan Mountain is located 120 kilometers away from Xian. It is one of the five holy mountains in China. The narrow paths, high mountain ranges and steep cliffs offer a thrilling experience. It houses several Taoist temples. It is regarded as the sacred land of Taoism.
Shanghai is a famous international metropolis. It is becoming the most important economic, cultural, international and technical center of East China. It attracts more and more tourists every year. Shanghai Museum is an important place to visit. It is located in People's Square. It is divided into eleven galleries and three exhibition halls. The galleries cover almost all the important kinds of Chinese art like Ancient ceramics, bronze, paintings, sculpture, Qing furniture and coins. You can find more than 400 pieces of wonderful bronze wares in this museum.
Jade Buddha temple houses two precious jade Buddhist statues. They are renowned for their rare cultural relics and porcelain artworks. The statues were carved with white jade that gives the beauty of sacredness to Lord Buddha.