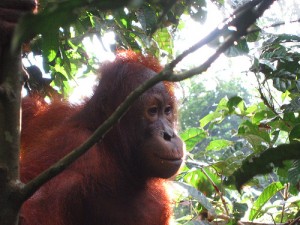 While in Malaysia I had the great opportunity to trek through the Borneo jungle. Sabah offers a wide range of sightseeing activities in its pristine jungle. We opted for a day trek into the Kinabatangan Wetland. It is a great place to spot some exotic monkeys which we did. The wetland is just a couple hours southeast of modern Sandakan, which is not far from the Sepilok Orang-utan centre.
The wetland cover 25000 Hectares of land and it is rated as having the highest concentration of primates in all of Borneo. We took a river ride with a guide to sight the strange looking Proboscis monkey which is only found in Borneo. Besides all the monkeys we saw, we also saw some pretty cool birds.
After the Kinabatangan Wetland, we went to the Sepilok Orang-utan centre because I'm obsessed. The centre is a great place to see these fascinating primates in their natural habitats. We got to see them during an afternoon feeding which let us spot them at very close range. It was a once in a lifetime experience and I would recommend it to anyone going to Borneo.
Our largest excursion was our trip into the Tambunan. It offers visitors a chance to see the world's largest flower, the Rafflesia. It is definitely something to see. It is massive and very strange looking. While in Tambunan you can also picnic by waterfalls, hike through the rainforest, and climb Mt. Trusmadi.
We had the opportunity to climb Mt. Trusmadi, which is the second highest peak in Sabah. It is worth all the work of climbing it when you reach the top and get to look out over the beautiful landscape. You can see the islands and the rice fields and, when we were atop it, everything appears engulfing in a beautiful mist. It is definitely picturesque so don't forget your camera.
Related Posts