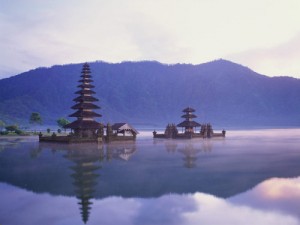 They say that the best time of the year to visit Asia is during the autumn or the winter. Why? Well, autumn marks the end of the monsoon season and the weather is much dryer. Temperatures are lower and more pleasant for sightseeing. The only catch is that autumn is the start of the high season so you will probably have more difficulties finding cheap flights to Asia. As winter arrives, the tourists flock to some of the most popular destinations in Asia, such as Thailand, India, China and Japan. This is because the temperatures are low and just perfect for sightseeing.
Spring is also a popular time to visit destinations such as Vietnam, Cambodia, Japan, the Philippines, Bali and some areas of China. However, other areas may be experiencing intense heat and humidity which makes sightseeing rather unpleasant. I would not advise visiting Asia during the summer because this is when the temperatures are at their highest and the monsoon season is in full swing.
So it would appear that although the best time of the year to visit Asia is during the autumn or the winter, this is when airline tickets are most expensive, because it is the high season. I personally would recommend organising to go during the spring, the start of the low season, as this is when you are likely to get cheap flights, as well as cheap accommodation and there will be fewer tourists. The weather should be okay too.
This is a general overview. If you want to find out what the weather is like in a particular Asian country, you should do further research on the internet. By doing this you will know exactly where to go or avoid during the spring and summer. When I first arrived in the Philippines it was Fall and I had no idea that it would be rainy season but every single afternoon it would rain without fail. Sometimes it would rain for hours but other times only 30 minutes. I didn't mind because as soon as it stopped raining the sun would come out and dry all the rain. The Philippines is tropical so even when it was raining it was never really that cold. So if you ask me there is no bad time to visit Asia – well I guess unless you want to go somewhere that has seasonal flood. Whether the flight ticket is cheap or not I probably wouldn't go but that's just me.
Tips for finding flights to Asia
To find flights, I would recommend spending quite a bit of time doing various searches online until you find the best deal. Try searching different dates, days and months (if you are flexible about travelling of course) until you find the right deal. Some of the airlines you should consider booking with are British Airways, Thai Airways and Virgin Atlantic.